Learning Management Systems (LMS) provide a virtual community and online platform for learning and development. Courses, programs, training and webinars are examples of how an LMS can support a company's objective.
So, what do you need to know about Learning Management Systems to make them effective?
An LMS keeps people engaged, organized and inspired to learn, making it a clear marker for furthering success in your organization.
LMS solutions can benefit any organization with training needs, regardless if these are internal or external. An LMS is a virtual tool designed to assist in eLearning for students and/or employees, depending on the objectives of the organization. Training programs, compliance review, stakeholder involvement, document sharing and even awarding certifications are all features of an LMS solution that can be integrated into your current platform(s). Cloud-based or an off-the-shelf purchase of an LMS are options. Figuring out what is best suited for your needs is always the first step. 
Why Does Your Organization Need an LMS?
There are endless reasons to consider an LMS for your business needs. Some of the most common reasons for implementing an LMS solution is:
On-boarding new employees

Creating an online platform for resources on your company's culture and history

Training manuals

Training programs

Tracking your team's professional development

Employee development
Designing a unique training program for your employees to improve on their skills can add incredible value to your company's growth, without wasting any resources. With eLearning on your tailored LMS, your business can grow without interruption, maintaining employee and management satisfaction.
What Else Can an LMS Do for your Business Goals?
There are hundreds of different LMS solutions to choose from. Navigating the options can seem overwhelming, but not to worry. First, establish why you need one.  There are features you may (or may not) need in order to see the long-term ROI. Some key features an LMS can provide are: 
Virtualization—Transition your Instructor-Led-Training (ILT) and workshops into virtual programs with a blended approach. This allows you to bring out the best of both worlds: the flexibility of the online components paired with the engagement of the live sessions. 
Data-Driven—Data can improve user experience and showcase the best and worst parts of the training program. Using tracking and reporting tools can assist in the evaluation of your online programs.
Assessments— testing tools can be complementary to understanding how the training programs are engaging the trainees and their level of retention.
Compatibility for Mobile Devices— For remote learners, international employees or if your business involves a lot of travel, having a mobile friendly LMS could be the deciding factor in your LMS solution.
Customizations—for a marketing and/or advertising firm (for example) customizations could add value to the user experience. This includes branding your LMS and tailoring the content to represent your corporate culture may be your number one priority.
There are no wrong answers. Understanding and knowing your priorities will ensure you choose the right LMS solution for the needs of your organization.
Cloud-Based 
Cloud-based LMS solutions are known to be user and mobile friendly. For the business that is more focused on marketing, communications or remote and international employees, the cloud-based LMS solution could benefit you. Generally, there is 24/7 customer service, it is cost-effective due to its low-maintenance aspect and provides easy access to its users.
Off-the-Shelf
Off-the-shelf LMS could be more suitable for the Information Technology Industry, Educational Industry or Financial Industry as it requires customized setup. After roll-out, manual upgrading is required in lieu of the cloud's automatic updates, but the options to modify and enhance the system are greater. It is still budget-friendly as there are more free solutions to choose from in the off-the-shelf LMS platform but both systems have their positives and negatives.
Final Decision
Regardless of your end-point, implementing an LMS system will prove its worth for your organization. Virtualization and eLearning is not only the future of business, but it is a booming industry making waves in the corporate world. Having a guiding light to ensure the right LMS implementation for your growing company is chosen is one last decision that should be the easiest. Contact me for a no-obligation consultation to learn more on how I can help you with your Learning Management Project.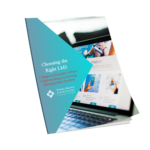 Have you seen our free White Paper: Choosing the Right LMS? Download it now!