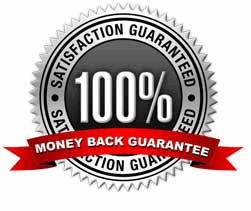 Updated 22 March, 2017
Satisfaction Guaranteed
My goal is to make online strategy easy and to guide you through the process. If any of my programs/modules don't meet your expectations, I am happy to provide a full refund. Due to the different length of the programs, each has a different refund period. See below for an explanation of the refund policy:
3-Day Money Back Guarantee
A 3-Day Money Back Guarantee applies to any event/course purchased unless the purchase takes place within 7 days from start date. Full refund will apply during the 3-Day Money Back Guarantee period. An administrative fee of 10% applies to any money refunded.
Home Study Courses
If after fully participating in the program for up to 7 days you feel that the program does not deliver the value you had hoped for and you have done at least two full modules yet, not more than 3 modules, complete the form below and I will remove access to the program immediately and refund the full amount.
Big Leap Bootcamp®
If you cancel prior to program start: cancellation fee is $1,000.
After start of the program a usage fee of $500 per workshop day (in person or virtual) and $500 of each month started will apply. Maximum Cancellation Fee is the tuition paid for the program.
No cancellation after the official start date of the program for participants in the BC Educational Grant.
Big Leap Bootcamp® Live Event
Seat Deposit is Non-Refundable in case of no-show.
No refunds for cancellations received 6 weeks prior to the event start date. Otherwise, a cancellation fee of $197 applies. Credit towards a future event may apply on the discretion of Petra Mayer Consulting.
Personal VIP Retreats
Rebooking or full refund up to 30 days before the scheduled VIP day. Aforementioned administrative fee of 10% applies. 50% cancellation fee applies up to 48 hours before the scheduled VIP day.
It is usually not possible to fill the allocated time unless there is a waiting list if you cancel within 7 days before the event. If you need to change your date I will accommodate one change of date without extra charge.