Are you looking for a speaker who can bridge the gap between heart-centred entrepreneurs and technology? Who can talk about building a business online without losing your audience with jargon and acronyms?
I am committed to bringing high value content to your small group workshops or large group stage.
Topic options:
FROM BIG IDEA TO BIG LEAP (How to Create Engaging Online Programs)
Before you take the BIG LEAP into online courses and group programs, let Petra steer you clear of the pitfalls she's experienced and avoided herself. Petra will share how to move from big idea to big leap with some nuggets from her own personal experiences.
Key Takeaways
The ABCs of transformational program
Communication principles for engaging online programs
Planning programs that make an impact
Mistakes to avoid when creating your first online program (from my personal journey)
3 MISTAKES ENTREPRENEURS MAKE DURING BUSINESS TRANSITION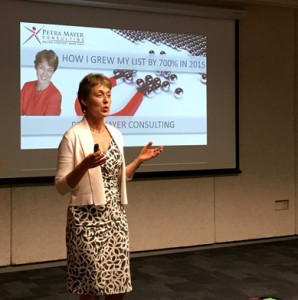 Mistakes and missed opportunities can be a result of fear. Fear of change. Fear of failure. Fear of taking risks. Don't stay stuck in the status quo. Learn to anticipate (and embrace) the transitions every business goes through while at the same time looking after your business' financial health.
Key Takeaways
Overview of business transitions
Mistake 1: Entrepreneurs don't follow a clear business model
Mistake 2: Entrepreneurs don't align cash-flow strategies with business transformation strategies
Mistake 3: Entrepreneurs don't ask for help
FROM BURNOUT TO SIX FIGURES WITH ONLINE PROGRAMS
Are you still trading (your) hours for (their) dollars? There are only so many hours in a day and so many clients you can help by offering one-on-one services before you start to experience burnout. Develop a true-to-you business model that will provide you with greater freedom and balance in your life and help you make a greater impact in your community.
Key Takeaways
The foundations of a leveraged business model
My M.A.P. Process to successfully transition to Online Success
The 3 mistakes entrepreneurs make during transition periods
What my Hosts Say:
Stephanie Arnheim, eWomen Network, Portland Chapter

Petra Mayer came to our Portland eWomenNetwork Chapter and shared her valuable information and insights into understanding the importance of creating an online presence. She also offered a valuable workshop that went deeper and clarified the steps needed to having an online presence and evaluate where you are at in your business and what steps need to be taken.  Petra has a lovely personality that makes everyone feel valued and listened to. I would highly recommend having Petra come speak to your group or take one of her workshops.
Michela Quilici, eWomen Network, Vancouver Chapter
Petra Mayer is one of those rare gems who is best in class when it comes to helping business owners bridge the gap from working in the job they've built for themselves to creating the lifestyle they envision for themselves. From an event planner perspective, Petra is an absolute joy to work with. Her big heart and generous spirit are balanced by her high integrity and professionalism. She delivers great value with her message, inspiring audiences to think bigger and make their dream a reality.
Upcoming Speaking Engagements
July 11, 2017: eWomen Network Vancouver, WA, USA
August 16, 2017: eWomen Network Reno, NV, USA
September 13, 2017: eWomen Network Colorado Springs, CO, USA
September 14, 2017: eWomen Network Denver, CO, USA
November 1, 2017: eWomen Network Cincinnati, OH, USA
July 18, 2018: eWomen Network Edmonton, AB
July 19, 2018: eWomen Network Calgary, AB
Previous Speaking Engagements
Apart from hosting her own workshops, Petra Mayer has spoken at numerous events in North America, including:
Connect Now, Coquitlam, BC
eWomen Network Vancouver, BC
eWomen Network Charlotte, NC, USA
eWomen Network Victoria, BC
eWomen Network Portland, OR, USA
International Coaching Federation, Vancouver, BC
Speaker Success Formula, Event Mastery, Vancouver, BC
Vancouver Business Network, Vancouver, BC
Invite Me To Speak To Your Audience!