I recently completed an extensive LMS Feasibility Study, a project I wrote about in my previous article "LMS implementation without frustration" and that I discussed in my eLearning Case Study. This project provided many lessons that became apparent through the analysis of the RFI responses.
Lessons for the RFP process
There were a lot of lessons that will help to develop a more detailed RFP (Request for Proposal). It will enable the team to identify the ideal vendor based on success criteria which became clearer through the analysis.
For example, it would be beneficial to incorporate into an RFP:
Keep all criteria of your requirements separate and provide a templated response form for the vendors to complete
Involve all Subject Matter Experts prior to the RFP to ensure all their needs have been captured appropriately.
Be sure to explain in detail when a requirement could be interpreted in different ways.
Include specific scenarios that the vendor solution needs to accommodate and request the vendor to outline how they satisfy this.
Ask for the appropriate pricing for any add-ons that may be provided by third party providers or outside the regular scope.
Ask for a quote for a specific contract period so that all quotes can be easily compared.
Lessons about the benefits of an LMS
As part of the LMS Feasibility Study, I was asked to create a list of potential benefits the LMS will provide for this client. The client had not really identified these benefits. Knowing what the impact will be for a system implementation can help to make the best decision for an organization.
We identified a number of potential benefits a Learning Management System can provide for them, such as:
Organizing all eLearning content in one location.
Providing a single source of access to eLearning materials.
Ability to easily track learner progress and performance.
Reduction in Learning and Development costs and time.
Making it easy to track compliance regulations.
Opportunities to expand eLearning courses and integrate social learning experiences.
This list was based on an article by eLearning Industry, which I applied to the specific situation for this client, allowing them to balance these benefits against the investment and resource requirements for the implementation.
Lessons about the investment required
It became very apparent that the solution can be provided by a variety of vendors. Some of them are providing an off-the-shelf solution. If my client chooses this as a solution, they will need to invest more of their team's time into the configuration process.
Other vendors may be at the opposite site of the spectrum, providing consulting and implementation of systems.
Each solution has its own benefit and drawback. It is important to take all the aspects into consideration before making a decision.
For example, software companies may offer to add consulting services to their software solution. They may charge separately for implementation services, configuration, customization or consulting services. Or these services may be part of the licensing fee. It is important that each solution has its pros and cons. If you rely on the software company's consulting services you get their platform specific expertise. However, you won't get an unbiased assessment across platforms.
Lessons about budgeting impact
Investments may be front-heavy – paying higher fees for the implementation work and lower fees for the annual maintenance. Alternatively, they be more balanced year over year. This may mean that for long term contracts the overall contract value is increasing.
It is therefore important to look at a long-term contract period. Start with what your licensing contracts usually start with (3-5 years). Then look at a longer term as it will be unlikely for you to move regularly from one LMS to another due to the considerable workload it will create.
Lessons for the Project Phase
In this case study I also explored a number of considerations that will help this client in the preparation for their project. This included the recommended set-up for their team, options for project management and project phases as well as the development of a top-line project plan.
An excellent tool to use in a case like this is to develop a RACI chart for the implementation tasks. This image shows the RACI chart for the RFP Phase: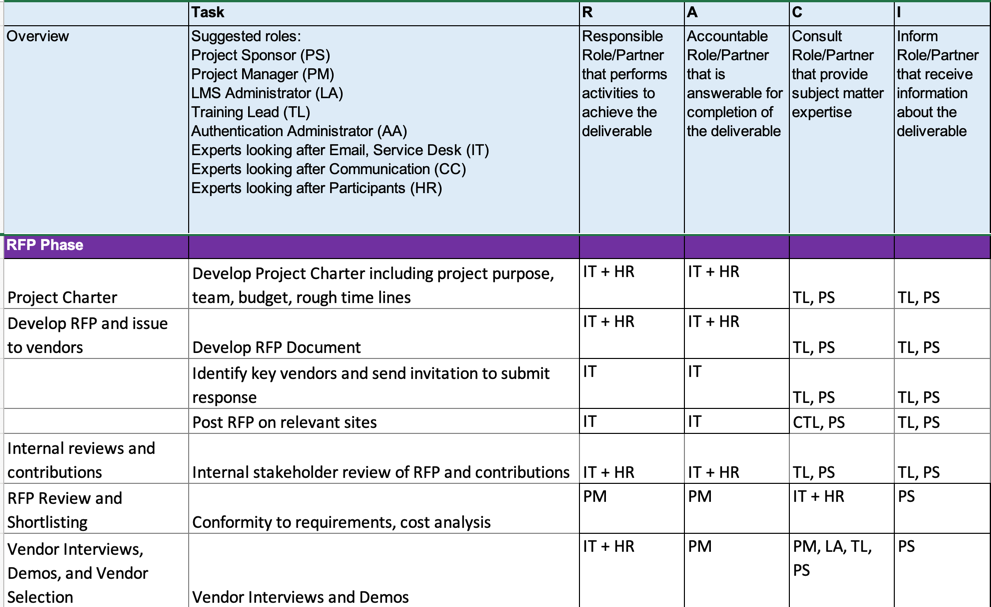 Identify the tasks in detail and then decide who would be responsible, accountable, contributing or needs to be informed. This chart became the basis to calculate anticipated project hours and assign them to the relevant team members.
While some of these tasks will shift, depending on which vendor might be chosen, it provided this client with enough information to take into their budgeting process, which was the underlying requirement for this project.
To Sum it UP…
As indicated in a number of my articles, a thorough Needs Analysis will be highly beneficial for your LMS implementation project. Additionally, the lessons learned for the LMS Feasibility Study have been very valuable to my client in refining their requirements even further and in preparing them for the project itself. It helped with budget planning and prioritization so the project can be timed properly. It also made it clearer for this client what the value of the system implementation will be for them and supported the business case.
Contact me for a no-obligation consultation to learn more how I can help you with your Learning Management Project.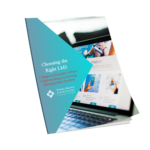 Have you seen our free White Paper: Choosing the Right LMS? Download it now!