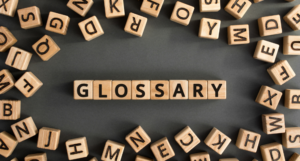 From Cloud to Scorm, to Authoring tool to Microlearning – eLearning has become a full-fledged industry. There are a number of factors that embody eLearning, helping it become a driver for personal and professional advancement. Therefore, the idea of this blog is to provide an easy reference around the varied concepts in learning and development. Take this as your Learning and Development Glossary, if you may, to stay up-to-date with the times.
Action planning
Action planning involves describing the steps that supervisors, trainers, learners and coworkers should follow when completing learning modules. In eLearning, it caters to the development and promotion of standards adapted to education and training.
ADDIE
The model is an acronym for Analysis, Design, Development, Implementation, and Evaluation. This five-phase framework serves as a guideline for building training and learning support tools.
Agile Learning
The Agile Learning model is often held in contrast to the ADDIE process. It became widely adopted in the 1990s. The Agile learning model dives directly into a project and produces small content pieces swiftly. The results obtained are later refined and polished through multiple quick iterations.
Authoring Tool
The Authoring Tool is software that helps create the content for online training and learning programs. An authoring tool is a software package for the eLearning course content. Some of the popular ones are Adobe Captivate, Articulate Storyline and iSpring Pro.
Asynchronous Learning
The model enables the members to train and finish the courses in their own time, place, and speed most suitable to them.
Bloom's Taxonomy
It is a classification system of power verbs that helps define and distinguish the phases of human cognition. These typically are learning, thinking and understanding. The pyramid consists of six stages from remembering, understanding, applying, analysing, evaluating and creation at its apex.
Branching Navigation
An adaptive learning technique, branching navigation enables learners or trainees to control the outcomes. The members undergoing training get to choose from multiple possible solutions to the given scenarios. Different results get displayed for each stage or challenge.
CBT (Computer-Based-Training)
CBT describes the on-demand elements of eLearning. However, it excludes instructor-led training. It is the traditional name for eLearning Computer-Based-Training.
CLO (Chief Learning Officer)
The CLO is responsible for defining and leading the company's learning and development strategy. The person is usually an executive-level employee. The role is common to large companies and multinational organizations.
Cloud LMS
It is a web-based platform that assists companies in tracking, delivering, and reporting on eLearning. In this one, the learning content, monitoring and reporting data are stored within the cloud. Cloud-based LMS is quicker and cost-effective to install compared to self-hosted learning solutions. The system also tends to need less in-house technical expertise.
CMI5 (Computer Managed Instruction)
The CMI5 is a profile for blending the xAPI specification with the learning management system. It involves a set of rules for xAPI which narrow the 'umbrella' or extensive specification to enhance its adoption rate in the industry.
COD (Content On Demand)
The COD phenomenon enables users to decide when and from where they can access the content. In the context of eLearning, learners can take the courses as per their preferred schedules.
Course Author
A course author is the brand ambassador for the said course. The course author defines the logo and colour schemes of the modules and implements the content in the chosen course authoring tools.
eLearning (Electronic Learning)
It is the delivery of learning and training via digital resources. The learning takes place through electronic mediums such as computers, tablets and mobile phones. These devices function via an internet connection that enables users to learn at any time and from anywhere.
Forgetting Curve
Devised by Ebbinghaus, the forgetting curve is an influential memory model wherein it shows how learned information slips out of memory with time, if not retained. It suggests that one should revisit the information learned sooner rather than later.
Instructional Designer
Also regarded as a course curator, an instructional designer aims to make the courses simple and easy to understand. The instructional designer also needs to ensure that the modules are accessible to people suffering from sensory, intellectual or technological difficulties.
Interoperability
Interoperability defines the extent to which hardware and software can work together. Several eLearning standards, including SCORM, xAPI (Tin Can) and AICC, help enhance the interoperability of online learning content and technologies.
Interactive Video
Also known as IV, interactive video is digital video that augments user interaction. The user can click on a desktop or touch on mobile devices within the video itself and change the video output.
Job Aid
A job aid provides information on how to perform a task or a job. A job aid includes materials such as paper handouts, one-pagers or instructions lists.
Kirkpatrick Model
The Kirkpatrick model is a standard used for evaluating the results of the training programs. The model comprises four levels, namely, reaction, learning, behaviour and outcomes.
LCMS (Learning Content Management Systems)
LCMS is a system that manages the creation, storage and delivery of eLearning content. It is synonymous with learning management systems or LMS.
Learning and Development (L&D)
L&D is a subset of Human Resources (HR) that helps improve the skills, knowledge and performance of individuals and teams through the course of training.
Learning Objectives
These define the knowledge or skills that learners can expect to gain from a training program. Course contents are goal-driven, and having clear objectives helps assess the effectiveness of the course upon completion.
Learning Path
A learning path or learning journey serves as a guide for learners that helps them get through the courses. It allows admins to control the timeframe and the order of the modules.
Learning portal
Learning portals help manage and deliver the training to employees, partners and customers. A learning portal can be separately branded and customized to meet the needs and requirements of learners.
LETSI (Learning Education Training Systems Interoperability)
LETSI is an international non-profit federation that helps with individual and organizational learning and performance.
LMS (Learning Management Systems)
LMS is a software application used for creating, managing, delivering and tracking training sessions. A good LMS enables you to impart the course content in a range of eLearning standards. Also, it helps with selling online courses, assessing and evaluating learner performance and delivering blended learning. The LMS can be standalone or integrated with third-party systems.
LMS Implementation Manager
This is a person responsible for the implementation process of the LMS, usually managing the team and providing daily support. After implementation, they oversee the ongoing operations of the LMS. In simple words, the person usually deals with defining user roles and creating learning courses.
LRS (Learning Record Store)
A learning record store is a process that works with xAPI (Tin Can) to collect, store and retrieve statements for tracking the learning experiences. The system enables the data to be presented in a convenient and accessible manner, thereby making it easy to interpret.
LTI (Learning Tools Interoperability)
LTI is a standard created by the IMS Global Learning Consortium. The purpose is to connect learning systems, such as an LMS and external service tools.
LXP (Learning Experience Platform)
LXP is a tool that enables end-users to capture, share and consume content using internal and external sources. The content is accessed through a personalized and continuously adaptive experience.
Manifest File
The manifest caters to the intricacies of SCORM. The SCORM package is a zip file that contains all the course contents, including SCOs (Shareable Content Objects), HTML and Flash Files. The manifest file determines the structure and contents of the training course or program. Note that the manifest should be named imsmanifest.xml and located at the root of the zipped package. If not, the course will be invalid.
Mastery Score
The mastery score defines a score that learners must attain to pass specific SCORM modules. A mastery score is not mandatory as knowledge checks, and practice quizzes are two assessment categories that do not require a mastery score.
Microlearning
It is a method of delivering training content to learners in bite-sized, focussed bursts. Each module or unit focuses on individual learning objectives.
mLearning (Mobile Learning)
It takes place on a mobile device, a smartphone or a tablet, enabling anytime, anywhere access.
Module
A module is the building block of the course. A module comprises course materials such as videos, documents, SCORM files, exams or surveys.
MOOC (Massive Open Online Course)
MOOC is an online course aimed at unlimited participation and open access using the internet. This online course focuses on delivering academic training and education.
Moodle (Modular Object-Oriented Dynamic Learning Environment)
Moodle is an open-source learning platform implemented in education settings. The main benefit is that it is customizable. Despite the low cost and flexibility, Moodle is quite costly to maintain and adapt.
Personas
These are learner personas that mimic the audience member groups for whom the course is designed. It is a part of user experience design wherein the well-developed fictional profiles help provide a notion of relevance and relatability.
SCORM (Sharable Content Object Reference Model)
Developed by Advanced Distributed Learning, SCORM is the bridge between the online learning course and the learner. It defines how the content speaks to and tracks back to the LMS. SCORM is interoperable, and the contents are reusable and shareable across eLearning portals and platforms.
SCORM package
The SCORM package is a zip file for uploading onto a SCORM-compliant LMS. The package is created using the 'export to SCORM' option in the authoring tool. The course elements – text, images, video, navigation settings and quizzes – help to create the package. The package understands SCORM protocol which enables it to be reused and imported to an LMS.
Simulation
A simulation is a highly interactive application that allows learners to role-play a scenario. A simulation provides a risk-free zone for learners to practice and work on their skills.
SME/Subject Matter Expert
A subject matter expert is the one who holds a deep understanding about a topic or subject area covered in a course or a module thereof.
Stakeholder
A stakeholder in the eLearning context refers to all individuals impacted by the project. This includes the initiator of the eLearning project, usually a person who tends to hold an authoritative rank or position in the company. This stakeholder could include a training manager, department manager or even a CEO. They often tend to be eLearning champions within the company. Other stakeholders are Subject Matter Experts, contributors and the learner themselves.
Storyboard
A storyboard is an outline or a roughly sketched frame that helps with building the course. It was initially used in cartoon animation by illustrators. In eLearning, a storyboard is mapped on tools such as PowerPoint, Word and Visio.
Usability Testing
Usability testing considers the varying facets within the audience, for instance, the level of tech-savviness, experience and skill level. Once done, usability testing moves to observe how the individual users perform the tasks to pursue the end goals.
xAPI
Also known as an Experience API, xAPI is viewed as the advanced version of SCORM. xAPI can track any activity and delivers a much more detailed and insightful view of learner progress – online and offline. What distinguishes xAPI from SCORM is that the latter was limited to recording online learning. The varied xAPI tracking includes reading webpages, attending events, borrowing library books, playing games, blended and team-based learning.
Interested in other Learning and Development Content?
This eLearning glossary is a great starting point, but there is so much more to know about learning and development. Check out these articles to dive more into the strategy behind eLearning:
3 Ways eLearning Can Grow Your Business,
eLearning platforms follow top trends in L&D