One of the wonderful things about being an entrepreneur is that the power is in your hands. More freedom is possible.
You have the power to build your business how you want, set your work hours, make more money, and generally create your own rules. The aspiration for entrepreneurs is to achieve more freedom. However, for many people the reality of entrepreneurship is often a lot different.
Hands up if you enjoy running the show, but you wish you had more freedom in your business and guidance about where to go next? Hands up if you often feel frustrated or procrastinate doing things, because you don't know the right path?
If this is you, you're not alone, and fortunately there's a way for you to achieve that freedom you've always wanted. Now's the time to take action, so here are 4 steps to creating more freedom in your business so you can become more location-independent and achieve your wildest goals.
Create reusable resources
If you find yourself repeating yourself to your clients or employees, it's time to create some reusable resources. This will save you so much time, create more freedom and it's a great gateway to start creating online courses. Online courses are a brilliant way to offer information to others, and you can make them in whatever format you like, as audio and/or visual as you like. Once you've set them up, you can think about offering your courses to the public or even selling them to increase your profits.
Seek out help and guidance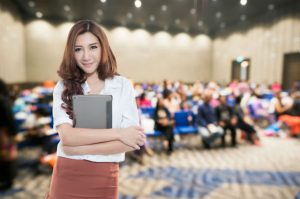 Creating freedom doesn't happen overnight, and it doesn't hurt to ask for help. Consider speaking with a business coach or signing up to a workshop to help you overcome any obstacles, gain confidence and knowledge, and get actionable strategies so you can grow your business. Our Big Leap Bootcamp Live Event is perfect for those looking to build their business with online courses and do so in a way that grants them success and freedom.
Set clear goals
As an entrepreneur you have to set your own timescale and goals, but a lot of people fail to stick by them. Set very clear working hours, deadlines, and timescales for projects or goals so you have that accountability and something to work towards such as more freedom.
Find what works for you
Creating more freedom in your business requires hard work and dedication, but the process is different for everyone. Find what works for you and what makes you the most profitable, comfortable and productive, and no doubt your business will thrive.
Are you looking to create more freedom in your business? Sign up to my upcoming Big Leap Bootcamp Live Event which will provide you with all the skills and actionable strategies to create engaging online programs and succeed as an entrepreneur.