Being an entrepreneur can be challenging, and when you have ideas to execute, projects to manage, deadlines to meet, customers and clients to serve and money to make it can often feel overwhelming.
If you can relate, it might be time to start outsourcing certain tasks if you haven't done so already, and think about how you can best use your time and employ people to perform the tasks that you don't have time for. Outsourcing is a really positive thing, as it allows you to focus on the more important aspects of your work. However, you also have to make sure you're outsourcing the right work and that it's beneficial for your business.
Many people don't realise how vital online project managers can be for businesses, especially if you're juggling many clients or projects and you have employees to manage. I want to delve more into this and highlight the benefits of hiring an online project manager, which hopefully you'll find useful if you feel your business could use some guidance and organisation.
Save valuable time
One of the biggest benefits of hiring an online project manager is that you'll save so much time. The role of an online project manager is to oversee projects, set requirements and deliverables, create timelines, assign team members, check quality, deal with issues along the way, and communicate with the client. If you're currently doing all of this yourself, it will save you a huge amount of time and allow you to focus on other areas of the business.
Stay on track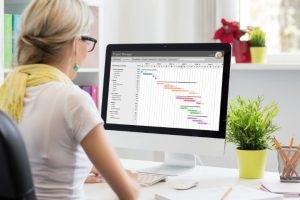 Hiring an online project manager is a great way to keep your tasks on track. When you're an entrepreneur it's easy to fall off-task, especially when there are so many things that constantly need doing. Whether it's you that's performing the work or someone else, a project manager will help to keep you accountable and help to set goals to keep you on track. An online project manager works remotely too, so you can keep in contact wherever you are in the world.
Expert perspective and input
As much as we like to think so, we don't know everything. We all have our strengths and weaknesses and it's important to supplement our weaknesses with outside expertise so our business is as well-rounded as possible. If you know organisation isn't your strong-point, an online project manager may be a highly valuable addition to your business. If you have trouble managing and organising projects, or want to input a more structured way of handling projects but you aren't sure how, an expert perspective may be really useful.
Great return on investment
And finally, another great benefit of hiring an online project manager is the return on investment. While it does require a small investment, it will also free up more of your time and energy so you can go out and find new business, improve your products or services, and generally develop your business so you can increase your revenue. Sometimes you need to spend money to make money, and an online project manager is a fine example of that.
Thinking about hiring an online project manager or want to know more about how one can help your business? Get in touch with me today to chat more about my digital consulting and project management services and how I may be able to help you to grow.
Project Manager – Product Manager – What's the difference?
This article highlights the benefits of the Online Project Manager who can be a vital resource in making your online business successful. You may have also heard about the role of a Product Manager.
If you have a substantial range of programs, hiring a Product Manager can provide you with the resource and focus to make your different product streams more successful.
To find out more, read in this article by Laurie Harvey about the Customer Journey Touchpoints for a Product Manager.