I often hear many small business owners asking the question of, "Does my business need an updated website?"
The short and fast answer is YES. Unless you don't want your business to grow and you don't want to attract new clients, having a great website is vital for your small business.
We live in such a digital age, and the first thing people do now is check out a business online before they go further. If you don't have an online footprint, or your website is unprofessional and unappealing, you won't be able to capture your audience's attention and you may lose business and customers.
If you get your website right, you can create an online engine that will help you to attract your ideal clients, thus allowing you to work with the people you really want to work with, grow your business and offer great value to your customers.
Still not convinced as to why a website is vital for your small business? Read on to learn more!
Reason #1: It's expected
Quite simply, if your business doesn't look good online, most people will assume it doesn't do good work in real life. Having that online mark and a place where people can learn about your business is crucial for establishing that first stage of trust with your customer.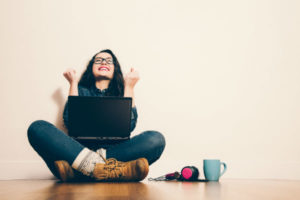 Reason #2: You attract your ideal clients
One of the biggest reasons why a good online site is vital for your small business is that it helps you to attract your ideal clients. When you invest in a client winning website, you can create a site that aligns with your audience's needs, encourages them to take action and convert to clients, and ultimately create more freedom in your business.
Reason #3: Make the best first impression
Roughly 80% of consumers refer to Google before they buy something. The Internet is such a powerful tool, and so having a website is the best way to make a great first impression. You get to control the first impression that people get of your business, so make sure the design, content and overall style reflects your business and its values and the experience customers will get by investing in your products or services.
By the way – colours play a big role in making a good impression. Learn more about colour psychology and how it may impact your brand and your website in this useful article.
Reason #4: You're constantly open
Unlike a storefront, your website never closes. People can reach your website 24/7, which means you can sell your products and services at all hours of the day.
These are just a few of the reasons why a good website is vital for your small business. To learn more about how to create a client winning site and why it's so important for your growth, get in touch with me today to talk more or take a look at my "Client Winning Website" training program.