Meet Petra
Hi, I'm Petra—Your Trusted Advisor in Online Strategy.
Nice to 'meet' you! My name is Petra Mayer and I'm a Vancouver-based business strategy coach and consultant who helps smart businesses develop and implement integrated online strategies. I would love to meet all of you in person—but that's simply not practical. I invite you to watch my video (above) to get to know me a little better.
Strategy as Unique as Your Business
I'm passionate about helping my clients to build successful online strategies. I work with coaches, consultants and service professionals, small business owners, and executives within medium-sized organizations in the Services industry. My approach is based upon more than 15 years of experience—consulting and on the client side—within online strategy and e-commerce.
I believe that strategy is personal. One size doesn't fit all—what will work for your business is as individual as your fingerprint. This is particularly true if you are an entrepreneur or a small business owner. When it comes to defining your online strategy, your full involvement is needed.
Let me guide you through the process—I will hold you by the hand every step of the way. The end result is a strategy that you will know like the back of your hand, with all the pieces in place for easy implementation. While my approach does follow a proven methodology, we will work together to build a plan tailored to your personal preferences and unique situation.
Consulting Services & Online Programs
I pride myself on my customer-centric mentality—this approach translates directly into my one-on-one consulting services. I have also used my knowledge and expertise to develop a series of online training programs, where I provide a guided program to help you build your online strategy.
Learn more about my services – or simply drop me a note using the form below. In business, there is no shortage of challenges—my goal is to make online strategy easy for you!
I look forward to getting to know you better.
Don't be shy—if you have question, please feel free to get in touch. I offer a no-fee Online Breakthrough Session. A perfect opportunity to see if we are a fit for each other. This session is designed for the heart-centred Service Professional who would like to consider my coaching, consulting or training services. Apply Now!
My Full Bio
For those of you who are interested in more details, here's some additional information:
Snapshot
11 years experience within online strategy and e-commerce within organizations such as British Airways and oneworld Management Company
7+ years consulting experience with local companies and entrepreneurs.
An MBA from Lancaster University.
A degree in Business Administration from the Technical College in Munich.
An Associate Certificate in E-Commerce from BCIT.
A Certificate of Professional Coaching from Simon Fraser University.
My Experience
During my career within online strategy and e-commerce, I have created and implemented numerous websites and online tools that are directly tied to online revenue and improved customer satisfaction. I have worked on many initiatives such as:
Implementing a round-the-world booking system.
Developing online training programs.
Creating mobile apps and mobile sites.
Website reviews and re-launches, including multi-language versions.
Online strategy development.
Project Management of cross-functional IT implementation projects.
Direct client coaching in business strategy and online strategy.
Leadership and Team training and coaching
Who I've Worked With
I deliver results—on time and on budget. During my career, I have worked in or alongside the best in a number of industries and organizations including:
British Airways
Candace Plattor
Clear Directions Coaching
Coach Teresia
Confidance
Erickson Coaching International
Exceptional Experiences Travel
Gaulhofer Windows North America (LuxusHaus Import Ltd.)
Julie Hamilton & Associates Inc.
Maddies Natural Pet Products
Madrona Works
oneworld Management Company
Rocky Mountaineer
Seabury Consulting
Vivo Team Development and their clients in various industries
Whisper Media
and many heart-centred service professionals in my Training Programs and consulting and coaching services
What my clients are saying
Petra started working with us on a 3 month contract to help with some immediate website development projects. Still with us more than 2 years later Petra has been working on a range of projects in cooperation with Marketing, Sales, Customer Service, Procurement and our Warehousing team. She has lead multiple projects from gathering and documenting requirements to delivery and roll-out. Petra's involvement has covered website and extranet review and updates, development of a merchandise E-Commerce site, development and delivery of travel agents online training modules and the implementation of a Point-of-Sale/Warehousing solution for our trains and warehouses. Petra's ability to combine consulting and coaching techniques has been particularly helpful for the variety of projects and teams that she has been involved in.
Grant McKegney, Director IT
Rocky Mountaineer, rockymountaineer.com
I thoroughly enjoyed my VIP session.  I was impressed with how well and thoroughly Petra addressed my specific needs and how she presented the solution in a manner that helped me look and approach my project from a new angle, which I believe is going to give me better results.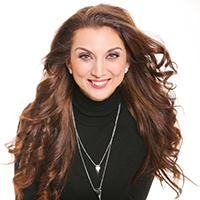 Francesca Anastasi, Executive Director
Confidance
Ready to Get Started?
Are you ready to develop your personal online strategy? Get in touch and let's discuss the details.