How to Launch a Website – The Project Phase
Welcome to the third article in my five-part Website Launch Blog Series. In case you missed the first blog of the series, I covered the Website Project Plan and why a detailed briefing document is important to your website project.  In the second blog of the Website Launch Blog Series, I covered the Proposal Phase and how you bridge from website briefing to finding the right vendor.
5-Step Website Launch Process: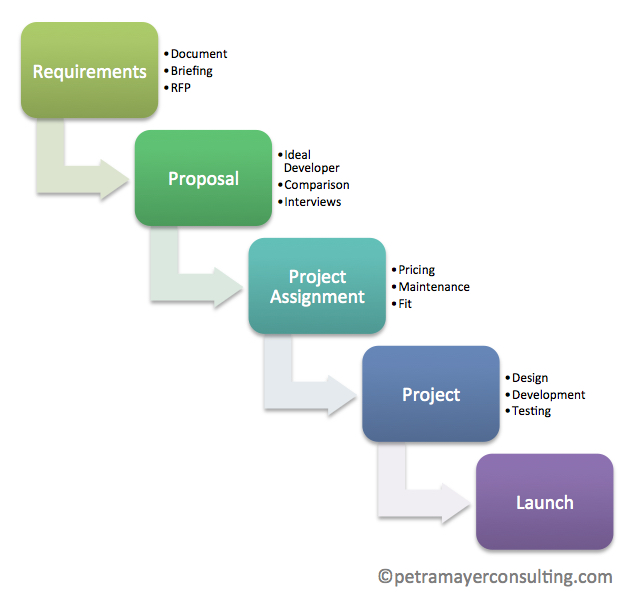 At this stage, I hope that you have selected your vendor and that you are ready to start with the Project Phase of your web development project. In this blog, I will discuss how you can ensure that your website developer is suitable for your project and I'll also cover the first steps of building your website.
[Tweet "How to ensure that your developer is suitable for your #webdevelopment project"]
Now you've made your decision
After you decide on a vendor for your project, you will enter the Project Phase.
First let's differentiate between the vendor and the developer/web designer. The vendor is the person or company you've hired to develop your website. The developer/web designer is the programmer who specializes in development of web applications – in other words, the one who will be doing the work.
If you require a complex site, you may hire a larger organization (vendor) who will assign a project manager and website developer to your project. You should check that the vendor you've selected will assign a developer or designer that is appropriate for your needs. Much like finding a vendor, you'll want to ensure that the developer or designer is a good fit for your website and your team. Speak with your vendor and identify what your site's requirements are and how they will match a developer and/or designer to you, based on these requirements.
If you are a small business owner who requires a less complex site, the vendor will most likely also be the developer/website designer. In this case, ensuring that your vendor has good project management skills is key, as the website will be based on a template that is already coded and designed.
Your developer's skillset should match the requirements of your site. If you simply need a WordPress template for your website, a junior developer may suffice, but if you require a more complex site, you should ensure that the developer assigned to your project is more senior and his or her skillset matches that of your site's requirements. Similar to the vendor search in part two of this blog series, making sure that your developer is a good match for your website, brand and team is critical to the success of your project.
Don't assume that the vendor will assign the best developer for your needs – and don't be afraid to ask! Much like the vendor process, make sure you do your due diligence and ask the following questions:
What is the developer's skillset?
What is his/her previous experience? If you are a start-up, a developer with experience developing large sites for exterprises may not be necessary.
What website platform are they planning to use and is that the best for your site?
How do they keep their skillset current to design a modern and highly functional website?
Also ask what other sites they have worked on and check out their work. Lastly, and most importantly, make sure that you will be happy working with the developer who will launch a website. Are your working styles similar and can you see yourself working with this person for a long period of time. The answer should be yes.
Now that you have identified who your developer will be and you are happy with the decision, you are ready to dive right into the Project Phase of the project.
Entering the Project Phase
The first thing that your developer will do is provide you with a wireframe of your new website. A wireframe is a skeletal framework of a website. If your developer and yourself have determined that a WordPress site will work for your business, your developer may provide you with a selection of WordPress themes to choose from based on predetermined layouts. Once you have determined your website structure, the developer will start to build your website.
Building your website
At this part of the process, your developer may ask you some design related questions to launch a website. Make sure that you provide your developer with your brand style guide, if you have one. A brand style guide is the primary visual DNA of your company's branding, though it can also reference grammar, tone, word usage and point of view. Essentially, it's a document that describes, defines and presents examples of what your brand looks like in various visual media such as print, Internet and broadcast. If you don't have a brand style guide, this can be developed as part of the project. It's important that the developer gets a good sense of the branding of your company and that he/she is aware of all branding elements so that they can remain consistent across your site; branding elements include:
Corporate Logo
Color scheme of your brand and company
Typography and Corporate font
Commonly used imagery
It's imperative that you create consistent branding –across your website and anything that will have your name on it. If you don't have a brand guidelines, provide your developer with business cards, or any relevant marketing collateral.
Things to consider at this stage of the process
Photography – Will you use existing photography or will you have it professionally done? Can you use stock photography?
Graphics and Icons – What graphics and icons will you need and do they need to be updated and redesigned?
These are both additional costs that are not covered by developer.
Draft your Copy
At this stage, your developer will request your website copy. This tends to be a bottleneck in the process as it can be an arduous task. If you don't have a copywriter on staff, nor the budget to outsource this, there are tips on how to best attack this task.
Start with the easiest pages first
Build back
Write the homepage content last as it tends to be a summary of the information on your site
Most importantly – start. It's always easier to update and refine a page with words on it, let alone launch a website. Look for documents that you have already created that you can reference for site content. Do you have documents such as proposals you have written that outline your services – start with those and then refine them for your website. Do you have a bio for PR purposes? This is a great start for your "About Me" page. Do you have a price schedule of your services – this will be a wonderful foundation for a services overview.