The thought of launching a website can be more than daunting! For most entrepreneurs this is such a big project, they don't even know how to get started.
How do you launch a website without pain and frustration?
Before I answer the question "How to launch a website", I want to categorize different website projects as each one may require a different approach:
Website Project Types
I differentiate between a website update, a website launch and a website relaunch. I also differentiate a project between a self-directed approach versus a Developer project. Let me explain these a bit further.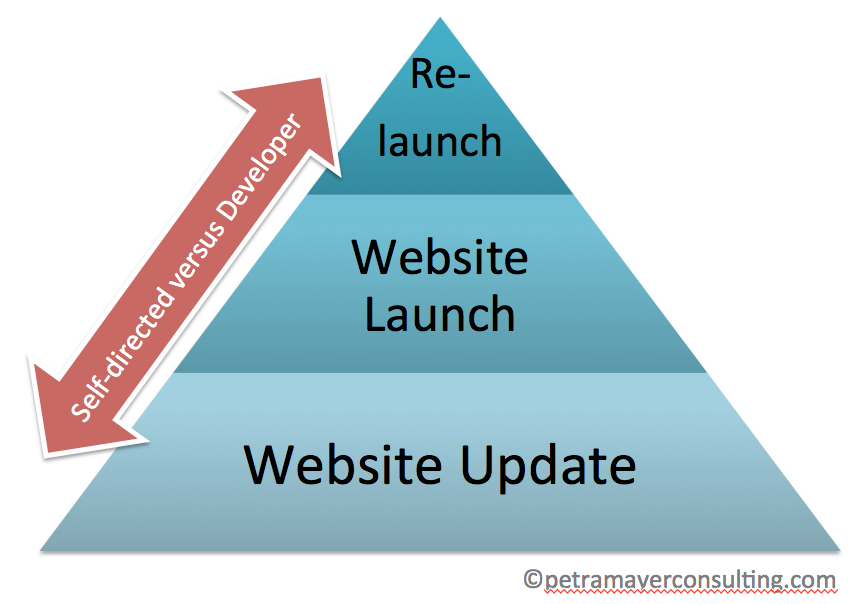 Website Update:
A website update is a project to update an existing website. This can be anything from updating individual pages or sections to adding some pages. Typically these projects are smaller and are done by the website owner or the webmaster. For complex corporate websites it may require support from a developer, particularly if the website is custom built or on a proprietary Content Management System (CMS).
Website Launch:
I define a website launch as  new website that is launched for the first time. It might not be the first website for the company or organization but it typically is a larger project with a specific launch date. Both scenarios – self directed or developer approach – can apply to this and it depends on the size of the project, the skills of the website owner and the timeframe during which the website should be launched. Sometimes budget is being quoted as the reason for a self-directed approach. However, for most business owners this might be short sighted as the delay in getting a website launched usually costs the organization far more than they would have to pay a developer.
Website Relaunch:
This is where the waters get a bit muddy. I tend to characterize a website relaunch as a substantial addition, restructure or re-development of a website. It might also be that the main business purpose has changed and the website is being re-launched to reflect this. It could even mean that a totally new website is being built and the existing website is replaced with a new one. There is clearly a grey zone between a relaunch and a launch. A relaunch can be more complex because at the same time of creating the best possible website for the business, the website owner might want to utilize the existing infrastructure to the best possible extent. Understanding where this is useful or not is an added layer of complexity.
Website Launch Process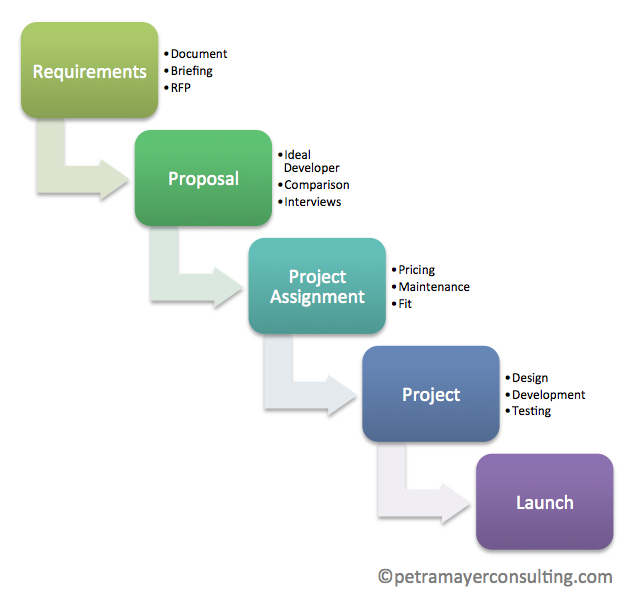 Any website development project follows the same process, even a small update to the website. Of course, the complexity differs for a full website launch or a complex website relaunch from changes to a smaller section of a website. In my practice I recommend to have a strong focus at the beginning of the process by getting full clarity on the requirements and documenting them in appropriate briefing documentation. This documentation helps in a Request for Proposal (RFP) process as well as in the testing later in the project.
After completion of the briefing documentation the website owner can get multiple proposals that are easily comparable as they are responses to the same briefing and allow for selecting the best suited developer. And suitability goes beyond simply pricing. It is important to be clear on the needs for ongoing support and maintenance and take the developers ability to provide this service into account. And a personal fit is also important as you will be working with the developer over a long time.
Only then will the project go into development starting typically with architecture and design, followed by the actual development and testing. This is clearly an oversimplified demonstration of this part of your project as there are many hurdles to overcome. It will be the topic of a future article.
After successful completion of testing the site will be launched and is now ready to be viewed by others. And now the work of driving traffic to your website begins.
Hurdles on Your Path
Often website owners think they can breeze through the starting phase of this process. They believe that they know instinctively what they need. However, uncertainties are often a reality and they need to be eliminated. Full clarity in the requirements is not only important to you if you create your website yourself but also to your development team who might help you with this implementation.
From the clarity on the requirements you will get direction for design and content that will make those project phases easier. It will also provide you with the success measures you need for your testing and approval of the website development project.
I highly recommend putting some time and thought into clarifying your requirements and documenting them in Website Briefing Documents.
You can get started with my upcoming Webinar: "5 Secrets How to Get a Website that Converts Leads to Clients". Sign up on the top right on this page. (Please note that the webinar is not offered at all times.)